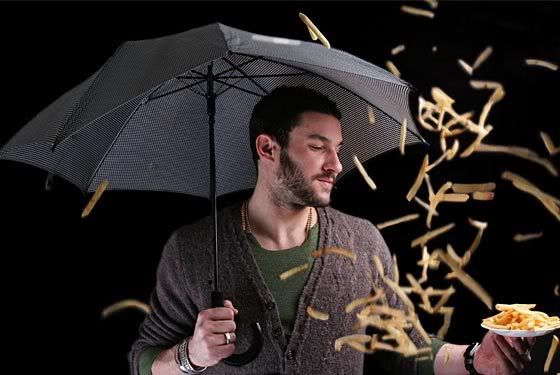 Pretty much every female in my life, including my girlfriend, is obsessed with Sam "Sexy Diabetic" Talbot, the
Top Chef
contestant who was sketchily ousted in favor of
Marcel
and eventual victor Ilan, who totally looks like he works at
Bar Ferdinand.
This
New York Magazine

log
of Sam's weekly eating habits really isn't that interesting, but its saving grace is this ridiculous photo, which my boss made her desktop image about .5 seconds after I sent her the link. But oh, the irony: since Sam is diabetic, he totally shouldn't eat fries, as high-glycemic-index foods like potatoes can increase insulin resistance and have a deleterious effect on blood sugar levels. Thank God he has that brolly.
I was watching a
Two-A-Days
episode centered around Hoover High playing a game against archrivals Vestavia, a school infamous for
gulliness
borderline inappropriate gamesmanship. They upheld said reputation by making Hoover use a storage shed as a locker room and putting a bunch of manure under the bleachers of the visitor's section, a move that inspired what might be be the greatest Alabama football dad quote of all time:
"I knew they had no class, but I didn't know how much no class."
Consider it lexiconed.
For some reason, Googling the phrase "two a days" kicks in the search engine's calculator function, which offers this John Nash shit:
2.31481481 × 10-5 hertz
If you solve the equation, you can find out how may visors
Rush Propst
buys on a typical trip to The Sports Authority, America's first place for sports.
Be sure to check
Kung Fu Cinema's
just-debuted
Electric Shadows,
a blog focused on the early days of Hong Kong cinema. Dear God, it's me, Drew: if you don't want me spend all my time geeking out in lieu of getting work done, why do you allow amazing shit like this to be?
So
Grant Hill's out with a knee injury.
He better watch out for that shit--it could negatively impact his career if he's not careful.
The
origins of Gatorade dunking revealed.
Excellent commentary
on YouTube, uh, commenters. (Thanks
Pat
)
Great people have great websites: click away to visit
Adam Pietras, tattoo artist extraordinaire
(yes, those are motherfucking
breakdancing robots
) and Ryan Beck's
Ryan Beck Art dot com,
which is really fun to say out loud. Ryan Beck Art dot com. Ryan Beck Art dot com. Ryan Beck Art dot com. Do yourself a solid and make it your personal mantra.
The coach of Washington State's basketball team is named
Tony Bennett.