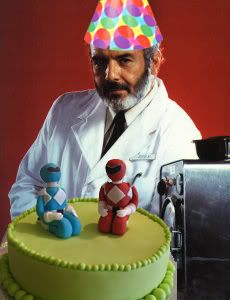 (Graham, who created the
original TJ image
we all know and love, was kind enough to whip up this birthday version for me. Graham is the
Takeru Kobayashi
of Photoshop.)
Yup...today marks
one year of Trapper Juan.
Here's my
very first post.
I've made an effort to stop rambling so much. It's strange to note how much stuff has changed:
- A year ago, I had just started writing for
Okayplayer.
Here's my
first review;
again, I've learned to (somewhat) curtail the ramble. Since that time, the editor who brought me on quit, and I somehow managed to
summon the ire of Pumpkinhead fans across the land.
All four of them.
(Just for the record, I still think Pumpkinhead's album sucks.) It was through here that I ended up writing a little bit for
Rockpile

.
I still do stuff for OKP here and there. Ginny, that review I owe you is seriously coming, I swear.
- A year ago, I was still deciding whether or not I should apply for an internship with
City Paper

.
In fact, this blog played a small role in me landing said internship. Here's my
first CP article.
I somehow managed to parlay my experience into a pretty regular freelance hustle, including some work with the excellent
DIW
and a weekly gig as a
restaurant columnist.
Who knew? I certainly didn't. My food knowledge has increased...slightly. For example, thanks to
David Ansill,
I now know what
osso bucco
is. Grazie, Dave.
- If you Googled my name a year ago (don't front like you ain't
Googled yourself
), you'd find stuff like the 2002 results from the
Chattanooga Area Swim League
(apparently, I
tallied a paltry 10 points for the woeful 0-4 Hamilton Club) and the Myspace of a band called
Meriwether
that features separate members named "Drew" and "Lazor." Now, my crap writing appears sporadically on sites ranging from
Sonny Boy's
to
Harrah's
to
Wang Newton's.
Weird.
Okay, so maybe stuff hasn't changed all that much. Still, I feel pretty good about my accomplishments, however modest they may be. I just wanted to take this opportunity to thank the people who have helped me grow over the past year, professionally or otherwise. Y'all are truly great. And, of course, thank you to the people who read this poor excuse for a blog, even though I know most of you accidentally come here while searching for pictures of Juelz Santana or Constance Marie topless or whatever.
Here's to a year of terrible captions, cluttered thoughts, stolen bandwidth, unintelligible backpack-rap releases, poorly structured opinion pieces, kitty pictures, forced movie references and categorically presumptuous hotlinking.
And, last but not least...gratuitous YouTube content embeddage. Thanks again--seriously. Cheers.


(Madge Sinclair = fine.)