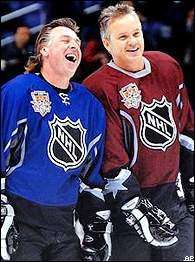 In
The Shawshank Redemption,

Barry Melrose's hair served as a
stand-in for
Bob Gunton


I really just made this post so I could use that picture. Shit's choice.


Here's that
Dangerdoom piece.
I gave the record four out of a possible five 'fros, but when it posted an additional halfro magically appeared.
I wonder if that has anything to do with them being a new Okayartist
I think it's because they're a new
Okayartist.
Yes yes. Liking the album a lot, aside from the
Cartoon Network
shit.


Trapper Juan on the
Anticon site.


Sometimes, I
Google "Trapper Juan"
to see if anyone is talking shit on me. No one ever is (because no one really cares about TJ) but I always comes across this
BlogShares
thing. I didn't really understand
the explanation,
but it's apparently a fictional online blog "stock market" or some shit. This blog here is currently worth

$
2,840.11
.
I'm not sure if that's good or not
that's not very good, considering that a blog like
Razorblade Runner
is worth
$42,145.98.
This
is one of the best things I've seen in months. Got love for
Paperboy.


I always see ads for
HeadOn.
The fuck? There's no way that works. I don't see how it's any different from rubbing a damn
gluestick
on your face.


City Paper
articles on the
"Everest"
exhibit at
Space1026
and the third annual
Philadelphia Pherret Phestival
(?!). I tried sneaking a Young Jeezy reference into the first piece, but it was woefully Anglicized during the editing process. I'm way too street for these cats I grew up in Bel Air, Maryland, a quasi-rural suburb of Baltimore.


Even though I posted this yesterday, but I think everyone in the world should read
this.
It will make your life, no shit.


Some dude uses shady Javascript code on
MySpace,
unwittingly
gets a million friends
in under five hours. I can understand the appeal of this, since 900,000 of them were probably
Asian.


It's stories like
this
that make me want to join
PETA.
Just kidding.


I recently realized that I know a good amount of
drummers.
There's my roommate Taylor, who drums for the shitty These Arms Are Snakes rip-off band that practices in my basement
Daggers of Throwing,
my dude Il Shim from
The Chimeras
and I'm accquainted with Patrick from
The A-Sides.
Good stuff. Percussion is beautiful, fellas. Keep drumming, I guess?